Washington Times
Andrew Nachemson
June 3, 2015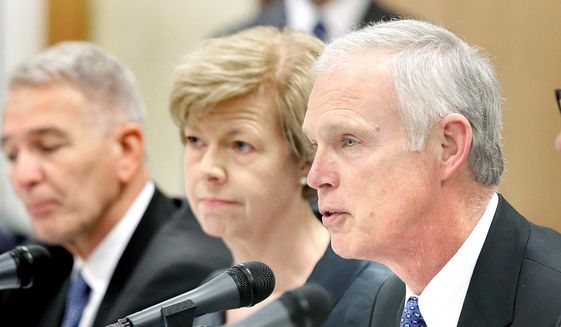 With an invited White House official a no-show, lawmakers teed off on the Obama administration at a Senate hearing over what critics say is an unprecedented number of vacancies in the federal government's watchdog corps. Senate Homeland Security and Governmental Affairs Committee Chairman Ron Johnson, Wisconsin Republican, said the hearing was called in order to "stress the importance of the role of Inspector Generals in improving efficiency and accountability" as well as finding out "why this administration has allowed so many vacancies" in these vital positions.
But despite invitations to testify, neither Valerie Green, director of the White House Office of Presidential Personnel, or her predecessor Jonathan McBride, appeared to discuss the vacancy rates.
Several lawmakers expressed frustration at the lack of participation by the White House, which did not respond to inquiries Wednesday about its decision not to attend.
Mr. Johnson argued the failure to permanently staff so many IG and oversight jobs goes beyond the simple need for transparency, saying sometimes an independent monitor can be a matter of "life or death." The Department of Veteran Affairs, which has been plagued with controversial management practices and patient treatment problems, is one department without a permanent IG in place.Mr. Johnson cited a case where a veteran's daughter took her father to a poorly run veterans' medical center in Tomah, Virginia. "If the Office of the Inspector General had only issued a report so the public understood the problems at the Tomah VA, she never would have taken her father (to) where he basically died of neglect," Mr. Johnson said.
According to the Project on Government Oversight, the Obama administration's average time for filling IG vacancies is twice that of past administrations. Under Bill Clinton the gap was 453 days, and it fell to 280 days under President George W. Bush. By POGO's calculations, Mr. Obama's average now reaches 613 days. These positions are, by law, only allowed to be left vacant for 210 days.
Many departments are monitored by an acting IG, but critics say such officials lack the job security and bureaucratic clout that a nominated and confirmed IG can bring to the position.
"When IG positions remain unfilled, their offices are run by acting IGs who, no matter how qualified or well-intentioned, are not granted the same protections afforded to Senate-confirmed IGs," Mr. Johnson said.
Michael Horowitz, the Justice Department inspector general who also chairs the Council of the Inspectors General on Integrity and Efficiency, told the hearing that currently seven top agencies lack an IG, including a 6-year absence in the Department of the Interior.
Delaware Sen. Tom Carper, the committee's ranking Democrat, called the length of these vacancies "unacceptable," though he noted Congress bore some of the blame for holding up many nominations for months.
Danielle Brian, executive director of the Project on Government Oversight, said that the majority of vacancy time is spent waiting for a nomination from the Obama administration and was troubled by the "administration's ambivalence towards the [IGs] in general," also citing the troubling lack of an IG at the troubled Veterans Administration.
Sen. Kelly Ayotte, New Hampshire Republican,, noted that the Obama administration hasn't so much as submitted a nomination for this position since 2013, asserting that "our veterans deserve action on this immediately."